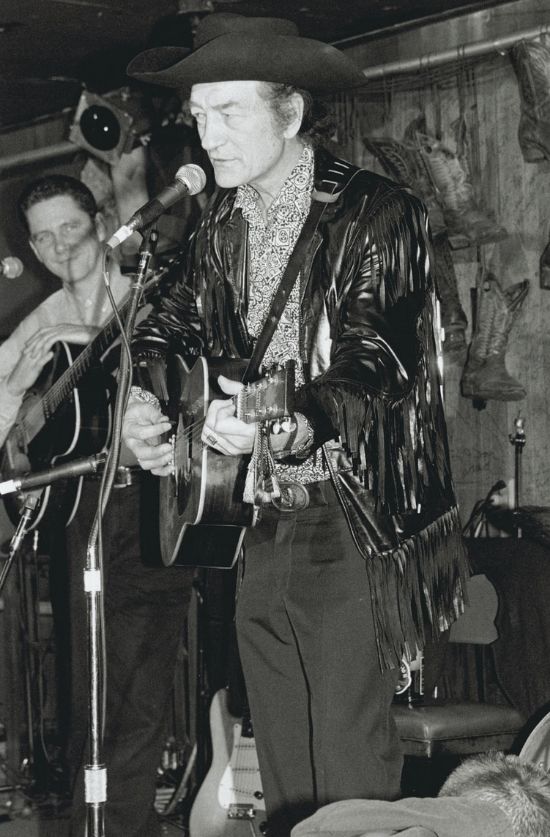 Stompin' Tom Connors
Chances are that the majority of Gunslinger devotees have never heard of Stompin' Tom Connors, and he'd be perfectly fine with that. When he began his career, he was determined to stay true to his country, stick to the Trans-Canada Highway and only write about the people and places that he loved, north of the 49th Parallel. He was so nationalistic in his beliefs that he returned all six of his Juno Awards (the Great White North's equivalent of the Grammy) in protest of the Canadian Recording Arts & Sciences' decision to reward performers who had gone on to live and ply their musical trade elsewhere. "Border jumpers" he called them, in an open letter to CARAS and the press. It's not that he begrudged Joni Mitchell or Neil Young their success, but to Tom, giving them a Juno wasn't going to help them any, when it could be boosting the career of someone who chose to remain at home and entertain their fellow Canadians.
Normally, I wouldn't go on like this about a topic here on the Gunslinger, but coming from Stompin' Tom's part of the world (he was also a friend of my uncle, who everyone knew as Jumpin' Jack, go figure), I knew his music before I knew rock and roll. Songs like
Bud the Spud
,
The Ketchup Song
and my eternal favourite,
The Gumboot Cloggeroo
course through my veins as strongly as Waterloo Sunset or Let's Face the Music and Dance; he wrote simple, often silly, songs, but nobody could touch him when it came to capturing the soul of a country in a way that was meant for us and us alone.
Tom was irascible, he often rubbed people the wrong way, and he didn't take any guff. Returning his Juno Awards was a total punk rock move, and it made his fans love him all the more.
Music industry be damned
, he was going to sing about what he loved for an audience that wasn't afraid to wave the Maple Leaf every now and then. When the regional East Coast Music Awards (which take place this week, excellent timing as ever, Tom) gave him a lifetime achievement award, he gave that back too, but on the condition that every year they pay tribute to the unsung players who played their gigs and put in the miles before the word "industry" was ever attached to "music". And so the Stompin' Tom Award was born.
I could go on, of course. I've talked to the man himself over the phone a couple of times, and I have friends who've played in his band ("You better be able to hold your liquor boys, we don't want any fallsy-downsies on the bus," he'd inform the rookies). But I'll just step aside and let you read
his obit in the Globe & Mail
or, better yet, watch
his concert film Across This Land
, filmed at the legendary Horseshoe Tavern in Toronto in 1973.
A twangy guitar, a piece of plywood to slam your boot into, and a bottle of whiskey. What more could you possibly need?