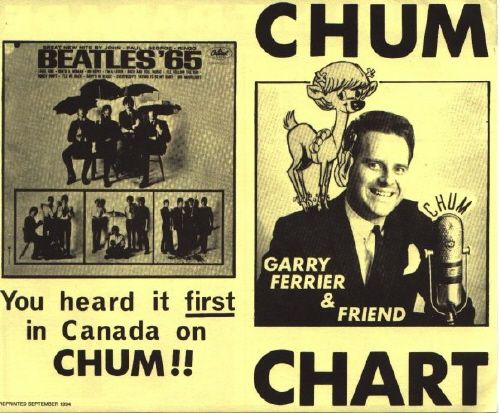 Ringo-Deer
by Garry Ferrier
(Capitol 72202; 1965)
Here's a curiosity from the Great White North, an attempt to cash in on Beatlemania by Toronto DJ Garry Ferrier, from the nation's top pop station, CHUM Radio. The "MAPL" you see written at the top of the label indicates the record has been cleared as "Canadian content," a ruling that came into effect in the early '70s that stated radio stations must play roughly 30% Canadian music. MAPL stands for music/artist/production/lyrics, and a record needed to accommodate at least two of those requirements to qualify as CanCon. The end result was lots of airplay for Anne Murray, Bachman Turner Overdrive and Bryan Adams (who later criticized the regulations, despite the fact they'd helped make him a millionaire).
That's probably more information than you needed about Canadian broadcasting regulations, so why not just enjoy this barely Beatlesesque Xmas tribute to the Moptops.