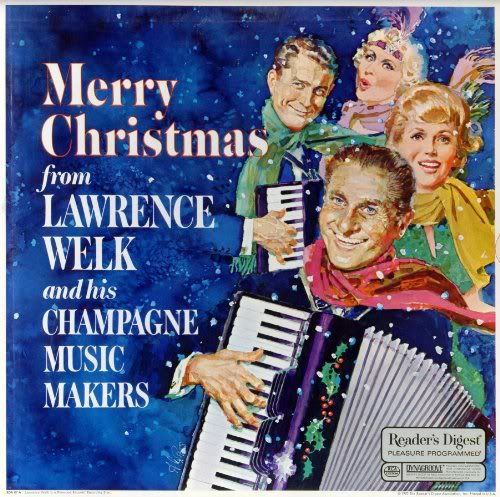 Lawrence Welk and His Champagne Music Makers - Ho Ho Ho (from Merry Christmas, Reader's Digest RDA 07; 1970)
Here's another tune from the flashback file, one that brought back a flood of memories as soon as I heard it for the first time in decades a few years ago. My parents grew up in the pre-rock and roll generation, my mother's LPs consisted mainly of show tunes, Johnny Mathis and Perry Como records, while my dad showed an interest a little later in life in the early folk music boom (Kingston Trio, Brothers Four, but he drew a line at Dylan and Ochs). After they were married in 1962 (and had my sister exactly nine months after the wedding), any interest in popular music seemed to stop, aside from a few Gordon Lightfoot albums.
One of the exceptions was the Reader's Digest series of LP box sets, of which we had a few around the house. Million Dollar Memories ('50s pop hits from the Columbia Records catalogue), Simply Folk (think New Christy Minstrals and Glenn Yarbrough) and Mood Music from the Movies (easy listening remakes of movie themes, also my earliest exposure to Ennio Morricone via Hugo Montenegro) are the titles that come to mind. One I'd forgotten about, maybe it went missing in a move or went to a church jumble sale, was this four-LP set of Christmas tunes by the man who is arguably the most successful big band leader of all time, Lawrence Welk. I became reacquainted with it when I picked it up in a collection of holiday albums I bought five years ago, and noticed there were a handful of non-traditional titles mixed amongst Rudolph the Red-Nosed Reindeer and Here Comes Santa Claus. The minute I heard the jaunty organ riff and Larry Hooper's sonorous baritone, I was immediately carried back to listening to the long-gone local easy listening station CFDR, and playing this set on our family's Fleetwood cabinet console stereo.
The release date for the Reader's Digest set is 1970, but clearly these recordings are from much earlier, including the 1956 Coral LP which bears the exact same title as the later box set.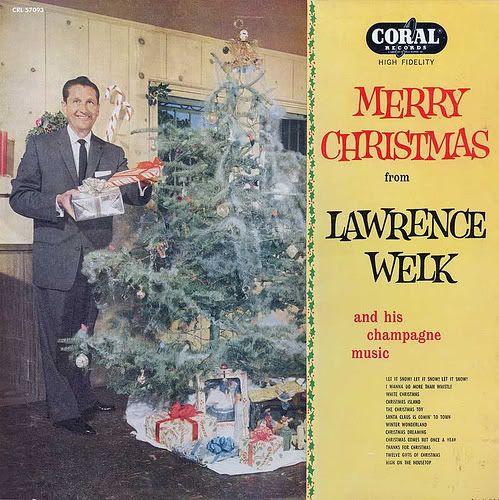 The Coral LP also includes the only other Larry Hooper contribution, High on a Housetop, so I'm inclined to think that Ho Ho Ho stems from these sessions, and could have been a B-side, but so far I haven't tracked down another source for it. If you want to sample Ho Ho Ho, you can hear it at the start of
this online mix
, which has a few other choice selections, but you might want to bail before it piles on the Christian pop carols.