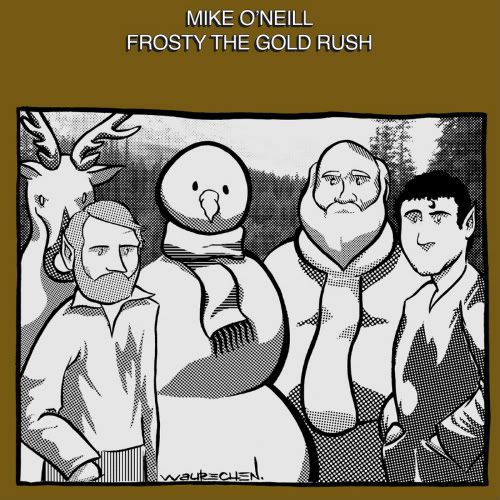 Mike O'Neill - Frosty the Gold Rush (from The 2011 Zunior Holiday Blender; 2011)
The trend of creating mashups seems to have come and gone like the feature film career of Craig Wasson, although you could trace its roots back to the 1970s and the beloved panel game
One Song to the Tune of Another
, on the BBC's long-running radio show I'm Sorry I Haven't a Clue.
In that spirit comes a new Canadian Christmas compilation,
The 2011 Zunior Holiday Blender
, with Canuck indie acts doing familiar holiday tunes in the style of perennial favourites from the Great White North. So you get The Violet Archers singing Good King Wenceslas to the melody of Gordon Lightfoot's The Wreck of the Edmund Fitzgerald and Dog Is Blue grafting the Flaming Lips' surreal Christmas at the Zoo lyrics onto the robust Stan Rogers shanty Barrett's Privateers.
I've settled on former Inbreds member Mike O'Neill's Neil Young impression on Frosty the Gold Rush, in which he eerily warbles the tale of how a snowman came to life one day. You can hear a sample of the track
here
or go to the Zunior link and hear bits of the whole thing and maybe even download the compilation (all proceeds go to Toronto's Daily Bread Food Bank). It's what St. Wenceslaus I, Duke of Bohemia would do.