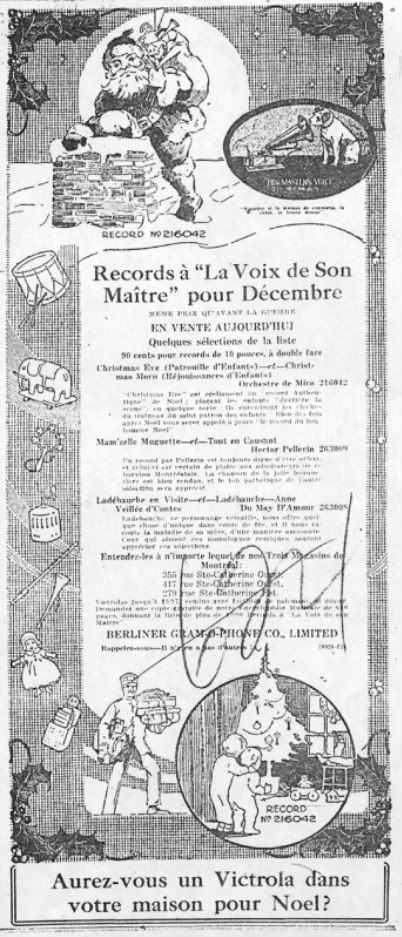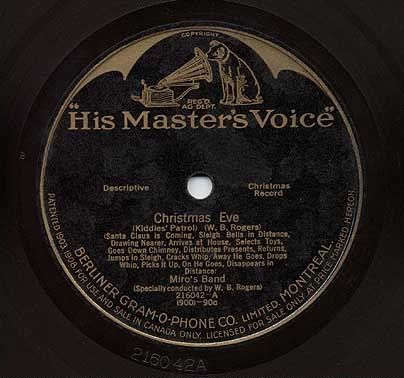 Miro's Band: Christmas Eve b/w Christmas Morn (Berliner Gram-O-Phone 216042; 1918)
Here's a rarely heard novelty, recorded in Montreal in 1918 by Spanish-born composer and conductor Henri (Enrique) Miro, who worked as musical director for the Berliner Gram-O-Phone and recorded dance tunes with his studio ensemble while devoting his spare time to writing more serious operettas for the stage.
Written by Walter B. Rogers, this two-parter subtitled "Kiddies' Patrol" presents the events of one household's Christmas night and morning with a mix of music, voiceover and sound effects.
Translated from the above advertisement:
"Christmas Eve is truly an authentic record of Christmas; placing the children 'behind the scenes' to some extent. They will hear the bells on the sleigh of the patron saint of children. Many times after Christmas you will be called on to play 'the record of Father Christmas.'"