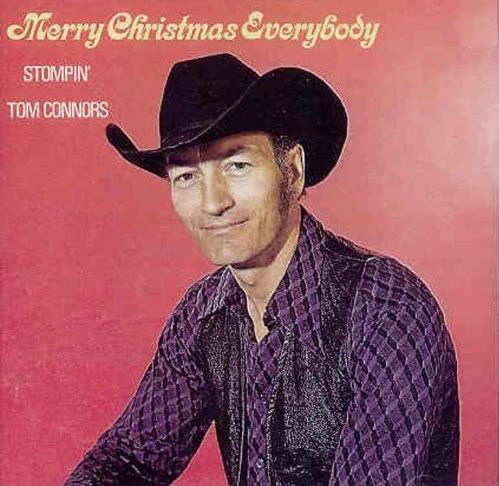 Canadian folk hero, and the pride of Skinner's Pond, P.E.I., Stompin' Tom Connors does his best to be festive.
Season's greetings to my fellow Charlie Parker-ites, I know I've been an absentee gunslinger of late--all due to a combination of problems and commitments related to my professional, personal and technical life--but I thought I could at least offer up some form of holiday cheer as the year comes to a close, with my annual Christmas mix CD which can be downloaded
here
. It's yet another collection of charm and cheese for young and old, and if you'd like to nab the previous installments, go to
this message board page
and look for the links named "Merry Swacmas".
Here's the track listing:
1. Stompin' Tom Connors - Merry Christmas Everybody
2. Les Paul (RIP) - Santa Claus Is Coming to Town
3. The Supremes - Won't Be Long Before Christmas
4. Hanna-Barbera - Comin' Up Christmas Time (Yogi Bear, Huckleberry Hound, etc.)
5. The Knickerbockers - I Want a Girl for Christmas
6. Tony Toni Tone - My Christmas
7. Metal Mike - Deck the Halls With Buddy Holly
8. Lord Executor - Christmas is a Joyful Day
9. Antonio Fargas - It's Christmas
10. Eddie Cantor - The Only Thing I Want for Christmas
11. Little Marcy - Christmas Lights
12. Anna Russell - Please Santa Claus
13. The Bee Gees - Thank You For Christmas
14. The Merry Macs - Christmas Cha Cha
15. Kitty Wells & Johnny Wright - There Won't Be Any Tree This Christmas
16. The McGuire Sisters - Honorable Congratulations
17. Mae Questel - I Want You For Christmas
18. Maryse Letarte - Boom Boom
19. The Three Suns - Uncle Mistletoe
20. The Goodies - Father Christmas Do Not Touch Me
21. The Darkness - Christmas Time (Don't Let the Bells End)
22. Bob B. Soxx & the Blue Jeans - The Bells of St. Mary's
23. Yo-Yo Ma & Alison Krauss - Wexford Carol
24. Los Straightjackets - Groovy Old Saint Nick
25. Shane MacGowan & the Popes - Christmas Lullaby
And as an added bonus,
here's a compilation culled from the record collection of the late Lux Interior of The Cramps, titled Black Christmas
. Enjoy!