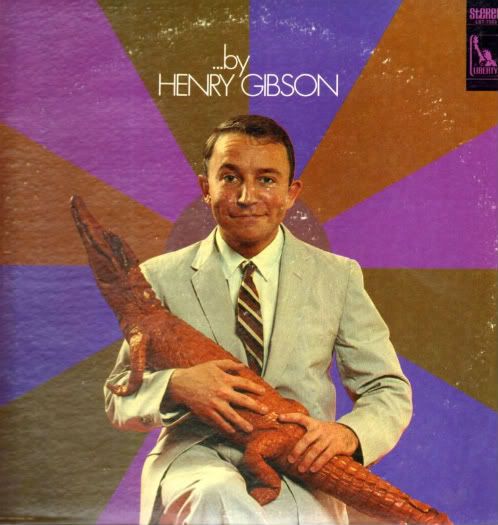 Henry Gibson
...by Henry Gibson
(Liberty; 1968)
As requested, here is Henry Gibson's LP ...by Henry Gibson, a reissue of his 1962 recording The Alligator, and Other Poems By Henry Gibson designed to cash in on his newfound fame on Rowan & Martin's Laugh-In. You can download a zip file of the LP
here
.
From the liner notes by comedy writer and a former product development man at United Artists Records (who originally released the album), Al Stoffel:
The folks back in Fairhope, Alabama, are right proud of their boy Henry. It wasn't too many years ago they had only to stroll into the corner drugstore to witness Henry's hilarious nonsense from the other side of a soda fountain. As a soda jerk, Henry would never have made the big-time. His dexterity in assembling a banana split may have been in question, but his ability to make people laugh never was. He would dish up ice cream, top it off with a running monologue of the absurd in that casual, sing-song drawl, and the customers would go home with aching rib cages.

But to tell the barefaced truth, some of Henry's poems just aren't dessert conversation. To wrap up his soda fountain career, Henry simply ripped off a chorus of "How to Skin a Polecat" when the drugstore was packed with folks having a late-night "tastee." He could clear the place at a moment's notice.

It would be a grand injustice to compare Henry to any other comedian; Henry's droll absurdities are a new brand of humour. Who else could (or would) do three minutes and forty seconds on "counting alligators on Saturday night"--and bring it off? Only Henry. Henry brings guffaws; another would bring only the Vaudeville hook from the wings.

The last few years have seen Henry stumbling his way to success. He's had various television guest spots with some of the heavies: Jerry Lewis, Joey Bishop, Groucho Marx and Merv Griffin. Most recently, of course, Henry has been pretty well tied up as a regular on Rowan and Martin's "Laugh-In."

The charm of Henry lies in his outspoken, country-boy manner. He blurts out the most improbable statements and puts them over simply and bluntly, as though they made sense. He throws curves at audiences, then patiently waits one beat, two, for the delayed reaction and the inevitable laughter. Take, if you will, Henry's touching tribute to his mule, entitled, "Here Today--Gone Tomorrow." Or his memories of New York, subtitled, "I Fell Down the Subway." or his patriotic essay, "What Freedom Means to Me in 25 Words or Less."

Henry is significant proof that the world of humour is truly a diverse one, with the emphasis falling on any syllable in the comedian's vocabulary. He's a master of the straight-faced put-on, with no hard-core comedy punch lines, references to his nagging wife or imitations of the President. Henry recites poems. Bizarre poems. Hilarious poems. Ridiculous poems.

Fortunately , there's a little of the ridiculous in all of us.