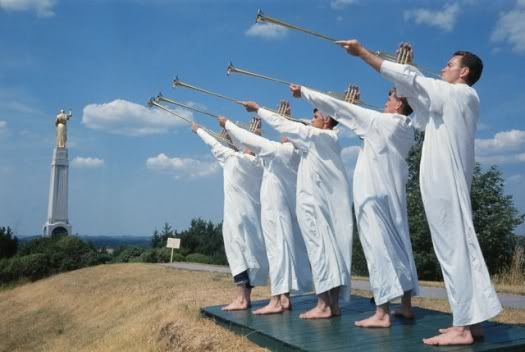 As the epic, Samuel Bronston-scale fanfare blown by this group of Mormons fades into the wordless sonic horizon, I can honestly say that, in the almost five year existence of this blog, few moments have been or will be as noteworthy as this.
It is my extreme pleasure to officially welcome Greg Ferrara (The Blogger Formerly Known as Jonathan Lapper) to the mean streets of
Gunslinger
as our newest teammate. Those of you who have been following Greg's adventures in the blogosphere . . . be it at the always-estimable
Cinema Styles
or the equally remarkable
The Invisible Edge
. . . will have more than an inkling as to why this is already a milestone in the life of this enterprise. The rest? I advise you to sit back and keep thine eyes peeled. What you see will, I've no doubt, be worth every second of your time.
So, before those Mormons let loose once again, step up on the stand and join us in welcoming Greg to our shores.