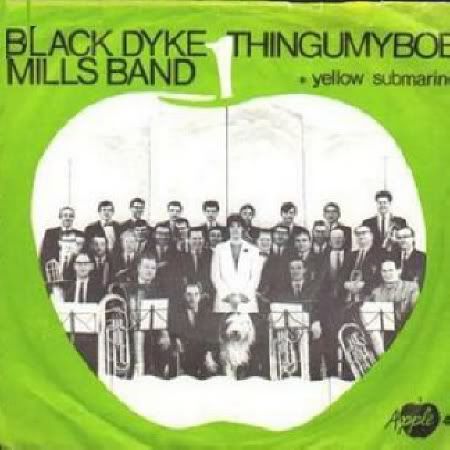 John Foster & Sons Ltd. Black Dyke Mills Band: Thingumybob b/w Yellow Submarine
(Apple 1800; 1968)
This entry is an interesting anomaly from the Beatles catalogue; an instrumental piece written by Paul McCartney as the theme for a British TV show called Thingumybob starring Stanley Holloway. The track is a bouncy novelty tune recorded by the award winning John Foster & Sons Ltd. Black Dyke Mills Band (they later dropped the first part of their name) produced by the composer, while the flip is a fairly straightforward take on Yellow Submarine.
In the UK, this was the fourth Apple single, after the Beatles' Hey Jude (a hybrid Parlophone/Apple release), Mary Hopkins' Those Were the Days (another McCartney production) and Jackie Lomax's Sour Milk Sea (written and produced by George Harrison). At the time it was released with a flourish by the new artist-owned imprint as part of a media launch titled "Our First Four" and the press kit put it thusly:
The Black Dyke Mills Brass Band

When Paul McCartney wrote "Thingumybob" for a television series of the same name, he said he wanted to get a true brass band sound.

So what did he do. He used the best band in the land - The Black Dyke Mills Brass Band.

They won the title in October last year. Conducted by Geoffrey Brand they've held this title 7 times since 1945.

Back to "Thingumybob". On the "B" side there's "Yellow Submarine" like you've never heard it played before.

The sound is beautiful and brassy.

Just what Paul wanted.

You'll want it too, once you've heard it.

The Black Dyke Mills Brass Band: Thingumybob - An Apple single. Number 4.
In North America, the single was the first Apple single released after Hey Jude (which had an Apple label, but a Capitol catalogue number), and my copy (pictured above with the plain black sleeve) is a later misprint that switched the A-side with the B-side.