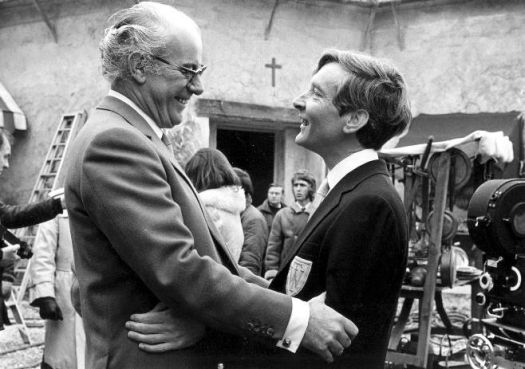 Those who regularly visit this blog may have noticed that, as hopeless anglophiles, we here at
If Charlie Parker Was a Gunslinger . . .
firmly believe that the so-called 'Carry On' series represents a critical symbol of Britain's cultural might in the latter half of the 20th century; no less critical than Donald McGill postcards, or sledgehammer jokes about the Profumo affair.
With that in mind, it is with heavy heart that we report to you the passing of Peter Rogers, producer of all thirty-one features in that wondrous canon, here photographed with a recidivist 'Carry On' cast member (one who, in his published diaries, had little that was good to say about his producer . . . or anyone else, for that matter). His doggedness got him (and us) through two full decades of those pictures; his penuriousness gave them their bright and tatty look (no small part of their charm). He was 95.
As if to highlight the degree to which brutes and philistines have assumed control over our cultural lives, there is not a single notice of this passing that I can find to which we can link; save for one: A
rote Obit
of fewer lines than this, on something called Chortle: The UK Comedy Guide.
Terrific.
Update (4/15): A for-real (and very informative) Obit on Peter Rogers has at last surfaced!
From today's
Telegraph
(thanks to Steve for the heads-up)