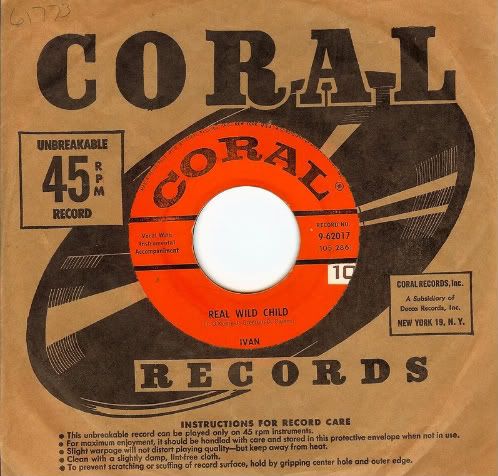 Ivan - Real Wild Child b/w Oh You Beautiful Doll
(Coral 9-62017; 1958)
"Ivan" was in fact a nom de tune for the Crickets' Jerry Allison (his middle name) and this single was issued in August, 1958 as a rock and roll novelty,
with very few hints in its publicity that he was also Buddy Holly's drummer
. Allison first heard the song when the Crickets were touring Australia, recorded by Down Under singing star
Johnny O'Keefe
, and when Coral agreed to let Holly produce this version, Allison decided he "was going to try and sing it like James Cagney, but that didn't work." As for the B-side, it sounds like Allison was channeling the 13th Floor Elevators' electric jug sound nearly a decade early.
The single was recorded in the summer of 1958 in Clovis with Holly and the Crickets (including bassist Joe Mauldin), Bo Clarke on drums and singing group The Roses on backing vocals. Producer Norman Petty plays wine glasses on the flip. Enjoy!
And if anyone has a copy of Ivan's lone follow-up single, Frankie Frankenstein, please let me know.