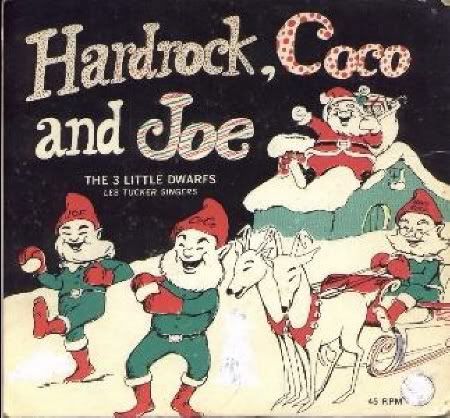 The Les Tucker Singers, Hardrock, Coco & Joe
(Inn Records 7" single M-346; 1956)
Today's pick isn't something I experienced as a child, but anyone who grew up in the midwest in the '50s, '60s and '70s probably saw the stop-motion cartoon The Three Little Dwarfs: Hardrock, Coco & Joe annually on locally hosted kids' programs like Bozo the Clown and Garfield Goose & Friends.
The song was written by former singing cowboy
Stuart Hamblen
, probably best known for penning This Ole House, Open Up Your Heart (and Let the Sunshine In)--famously burbled by Pebbles and Bamm-Bamm--and the gospel standard It Is No Secret (What God Can Do), which he composed after becoming a born again Christian with the help of Billy Graham. The recorded version of Hardrock, Coco & Joe is different from the cartoon, with more instrumentation, but fairly similar in terms of the vocal arrangement. The film also carries a footnote of notoriety in the form of a painstakingly accurate parody version produced for Robert Smigel's TV's Funhouse, titled Christmas With Tingles, in which a magical elf goes around spreading holiday anxiety and remorse.
Visit here for more info on the cartoon version, and a copy of the short itself.