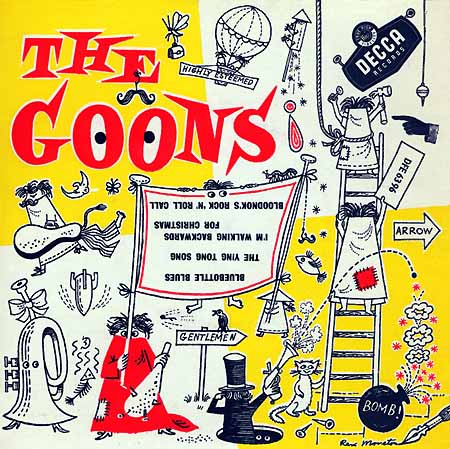 The Goons-I'm Walking Backwards for Christmas
(Decca EP DFE 6396; 1957)
Sung by Spike Milligan, I'm Walking Backwards for Christmas was known to me for years only as a tune performed on an episode of the BBC's The Goon Show, but I was very pleased to come across a genuine studio recording a few years back, first on a Goon songs compilation and later scoring the original Decca EP with the picture sleeve (featured in our Stacks O' Wax series back in 2005).
The song originated as a bit of impromptu nonsense (of course) by Milligan when he had to fill for time on a pair of 1956 episodes--The Great Tuscan Salami Scandal and The Treasure in the Lake/a.k.a. The Treasure of Loch Lomond--due to a musicians strike, and the absence of regulars harmonica whiz Max Geldray and singer Ray Ellington. The popularity of the show was such that an official release was a must, hence this recording, made "with Nick Rauchen conducting the Ball's Pond Road near 'The One-in-Harmony'."
The song has become more readily available in recent years, thanks to its appearance on a handful of compilation CDs. In 2003, residents in the Australian town of Woy Woy planned to celebrate their love of the song and the Goons by walking backwards in a parade through the town, but the town council feared potential lawsuits if anyone injured themselves by walking backwards, so the members of the 300-strong parade had to wear their clothes backwards whilst actually walking forwards.
Ying Tong merrily on high.