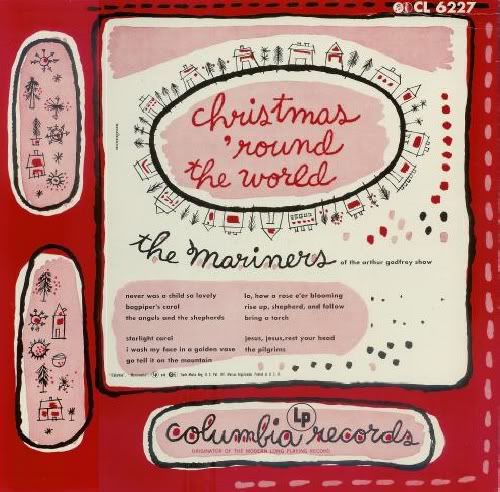 The Mariners, Bagpipers Carol
(from Christmas 'Round the World, Columbia 10" LP CL 6227)
Among the stacks of ephemera I've managed to accumulate over the years is a substantial collection of Christmas recordings, from 78 r.p.m. platters to boxes full of 7-inch singles, LPs and what Big Black's Steve Albini once referred to as "the rich man's 8-track", compact discs. (And no, I don't have any 8-tracks, a fella's gotta draw the line
somewhere
.) These have been gleaned from the family collection, thrift shops and used record stores on both sides of the pond, and the generosity of friends and people simply trying to clean out their basements.
So in the spirit of what some popular music blogs have termed "Christmas sharity" I'm presenting 12 of these gems between now and Christmas Day, with tracks from all genres and formats, starting with this prosaic rendition of an old Italian carol by
The Mariners
, a mixed race vocal group that appeared on The Arthur Godfrey Show from 1949 until 1955.
The Mariners were four former Coast Guard officers who began singing together in 1942, and later became one of Godfrey's featured performers, or "Little Godfreys." Reportedly, Godfrey received complaints by some viewers shocked by the sight of seeing white and black men singing together (it's a good thing they didn't hold hands or anything) but the ol' redhead adamantly refused to pull them from the program.
Christmas 'Round the World features a variety of songs from Appalaichan folk ballads to Negro spirituals and European carols from France and Czechoslovakia, with sparse accompaniment. I like the Bagpiper's Carol for its unique melody and that eerie organ which I assume is trying to imitate the titular instrument. Just click on the link under the cover and enjoy!