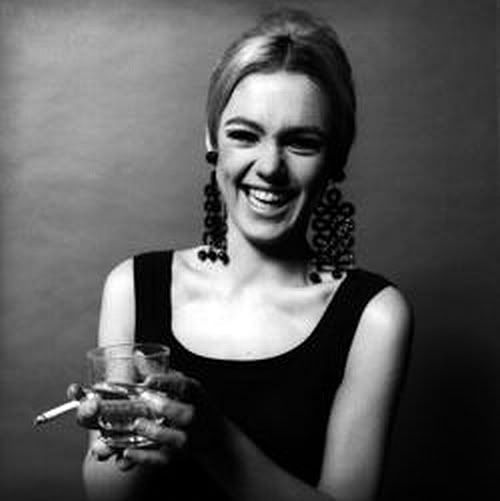 She begins talking about Edie Sedgwick, an early heroine -- "It's funny how heroine and heroin are very similar . . . " -- from the days when Patti first hit New York, and suddenly her voice becomes less assertive. She uses even more 'ya knows' than usual. "Half of
Blonde On Blonde
was written about her and, uhm . . . she just burned herself out. She was a deb, a socialite . . . I just met her . . . I was a fan of hers . . . I just met her once . . . I thought she was really wonderful." Behind the RayBans the shadows of her eyes have stopped darting. "She was like traveling with Warhol and I used to see her at art exhibits and I wrote a couple of poems about her because I thought she had so much abandon and she was such a fantastic . . . it was the days of like discotheques and the Peppermint Lounge and stuff and she was like, she wore these mini-skirts and had platinum hair and black eyebrows and she was gorgeous, ya know, really American, like rich, ya know, especially like she was upper-class and I was lower-class, I had this sort of like fascination for her . . she was really, totally in tune with her body, all her movements and, ya know, she was really like a rock'n'roll Salome and I really dug that." You get an image of Patti, the gawky girl grown to gawky late-adolescence, watching Edie and getting the germ of an idea....maybe it's alright to be weird...
© Bart Bull, 1976
(This excerpt from an interview with the always demure Patti Smith appeared in the December, 1976 issue of
Sounds
, and was generously supplied by its author, a just and righteous man of letters named Bart Bull.
Señor Bull's blog
, which achieves in prose what we seek to achieve with images here, is heartily endorsed by this corner of the
Gunslinger
quadrangle, for whom it has become a favorite among favorites)