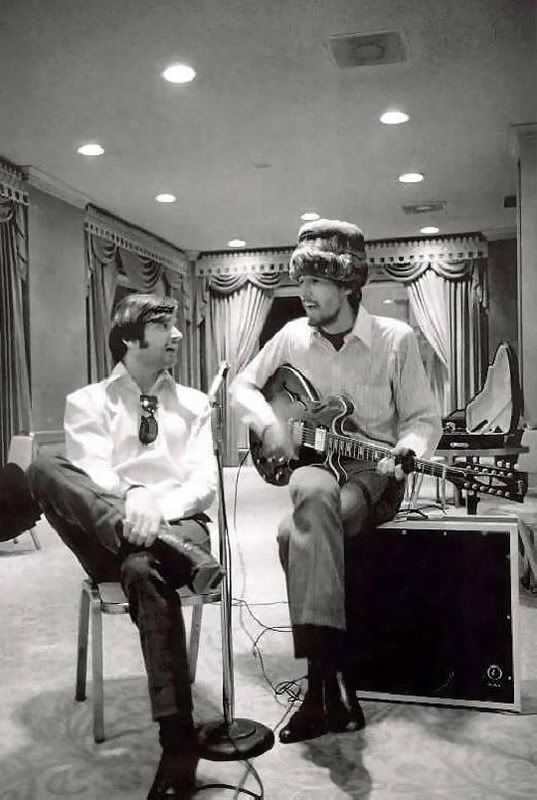 The Mamas and the Papas' Denny Doherty and John Phillips in happier times.
Doherty's New York Times obituary can be found
here
.
Doherty, a native of my hometown of Halifax who I'd been privileged to know, died at age 66, likely due to kidney failure following an operation for a stomach aneurysm. Doherty's Irish roots were evident in his love of music, and his ability to tell a compelling tale. Especially ones where he could drop names like Jimi Hendrix, Brian Wilson and Bob Dylan without feeling the slightest bit self-conscious, because these artists had been friends, and the stories were undoubtedly true.
Certainly the Mamas and the Papas were the acceptable face of hippiedom, like a Sears catalog Nehru jacket, and Sullivan show friendly, while their records' mix of Spectorian grandeur and free love have developed an extra patina of age that many of their contemporaries have escaped. But the songs survive thanks to Phillips' inventive musical mind and the way all four members were able to inject distinct personality into carefully calibrated harmony parts, with Doherty's clear tenor a crucial part of what the group described as the "fifth voice" that arose from their blended vocals.
While much of the '70s was spent in a haze of various substances, Doherty turned his life around, succeeding as an actor, with the occasional Mamas and the Papas revival or his autobiographical revue/Mama Cass tribute Dream a Little Dream. He expressed few regrets, and appreciated his front seat at the '60s pop music revolution.
Not bad for an Irish folkie from Halifax.