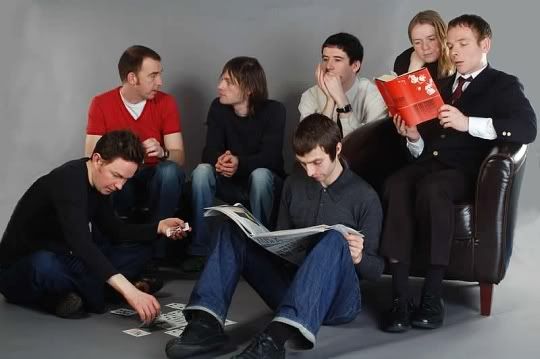 On December 18, 2002, Belle and Sebastian performed an extended set at John Peel's Christmas bacchanal, broadcast live over Radio 1 in London.
Now, those of you who've been visiting this blog for more than a year will, in all probability, be scratching your heads (with some justice), asking yourselves if this is some kind of joke; if this year's Christmas Day offering could
really
be the
same one
as last year.
Well . . . it is; but for two very good (I think) reasons:
1) A regular visitor to this blog asked me to repost it this year.
and
2) I doubt if I've ever heard a better, less widely known musical Christmas bash than this. Of course, there is the Vince Guaraldi Trio's
A Charlie Brown Christmas
from 1965, but beautiful and haunting as that LP is, and will always be, it's so well-known and easily obtainable that posting it here would constitute laziness on a scale that outstrips my reposting the sublime Belle and Sebastian set.
Departing from last year, however, we are bringing you
the broadcast
in a single archive file, rather than track by track,
and
. . . to ameliorate our guilty conscience over throwing old material your way . . . tossing in
another
Belle and Sebastian Peel session from June of the previous year.
We here at
If Charlie Parker Was a Gunslinger . . .
would like to close by wishing all our visitors, be they regular, random or yet-to-come, and all our fellow bloggers (too numerous for words) all the best we can wish for this, the season of wintry holidays.
Merry Krimble to y'all!!