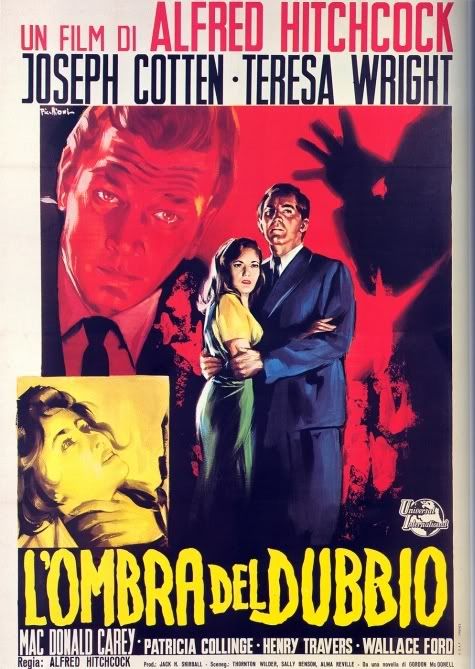 Who would have guessed that another Blog-a-thon would be upon us so soon? Not I, for one. But thanks to the prodigious efforts of Squish over at
The Film Vituperatem
we here at
If Charlie Parker Was a Gunslinger . . .
find ourselves once again unable to resist the essentially communal spirit of the hour. And what better (or easier) entry could there be for a Blog-a-thon devoted to Sir Alfred Hitchcock than a whole mess of images, a Musical Indulgence and . . . you guessed it . . .
Part Twelve
of The
Hitchcock/Truffaut
Tapes; entailing discussions of two films from 1942,
Saboteur
and
Shadow of a Doubt
.
Saboteur
is a film that only those who go in for Alfred Hitchcock's by-then patented suspense mechanisms could think a major work. Clearly Hitchcock himself has little regard for the film, spending, as he does, most of his retrospective analysis on its failings; as if in this discussion, some two decades later, he were still trying to figure out what went wrong.
To use the term 'discussion' to describe what transpires in relation to
Shadow of a Doubt
is, however, stretching the term a bit, since Hitchcock really doesn't get to say very much.
If you've been following this series, then I don't have to tell you who does most of the talking, do I.
It is, of course, not the first instance where François Truffaut spends an inordinate amount of time explaining to Hitchcock his own movie (it's not the last, either). By now, the Master of Suspense probably realized this was going to be a regular feature these talks, something one sits through and endures as best as one can. Short of calling in Security gorillas to bounce the team of François and Helen off the Universal lot . . . then working them over with beaver-tail saps before dumping them in Griffith Park . . . there wasn't a whole lot he could do but wait for the next question to arrive (I imagine he spent these lulls actively fantasizing about how he'd change the menu at Chasen's if only they'd let him). As I say, this is not by now an unusual occurrence in these recordings, but it's an especially annoying one this time because
Shadow of a Doubt
may be the finest film Alfred Hitchcock directed in the 1940s.
Ostensibly the story of a young girl who slowly comes to discover that her elegant, charming, and most favored uncle is what we now call a serial killer,
Shadow of a Doubt
is at once a droll portrait of wholly American innocence and a night-filled document of its sundering. It has to be remembered that, despite the best efforts of novelists such as Sinclair Lewis and Sherwood Anderson, our popular culture had not yet even begun to exhaust the theme of foul, unutterable doings just beyond the facade of small-town American life. Indeed, Hitchcock's is really the first film to take up the theme full-on. And while there have been those who will argue that Thornton Wilder's presence as co-scenarist played more than a subordinate role in creating the film's sense of social dread . . . after all, Wilder was not that many years removed from his bleak stage masterpiece
Our Town
. . . it doesn't fully account for Hitchcock's absolute engagement with it. His shepherding of this fundamentally dark tale evinced, in a way no film of his had before, an intense focus not just on the mechanics of telling its story, but on bringing what light his art could bear to all of its larger implications.
The key question, of course, is exactly what it was that so inspired Alfred Hitchcock on this occasion; why
this
project and not, say,
Foreign Correspondent
? While avoiding an outright spoiler, I can safely say you will not learn the answer to that question here. François Truffaut, unfortunately, seems to have little interest in it. I daresay he thought he already knew everything he needed to know.