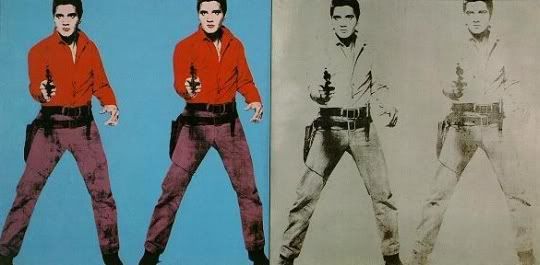 Do I look like Charlie Parker to you, pilgrim?
Christ, what a lame way to start a blog, no?
But what could anyone have expected? It was early in the morning, October 24, 2004 and, as usual, I couldn't sleep a wink. To this moment I don't know exactly what it was; perhaps all that talk about the rise of the blogosphere during the 2004 Presidential election, when a raft of intrepid (albeit right wing) bloggers brought down the once-mighty Dan Rather of CBS News over some harebrained, forged documents pertaining to . . .
Whatever.
The point is, I started this blog on an impulse; no more than that. I had no plan, no formula. If I knew anything to a certainty, it was what I
didn't
want to do; namely take whomever wandered into the thing through some leaden, day-by-day account of life in the Community Television racket, where I make what it pleases me to call my living. Public Affairs television is dreary enough to watch; who on God's green earth wants to read about its creation? Damn skippy, no one does; and, what's more, I knew it from the get-go. I started posting images simply because I had them on my harddrive by the hundreds (now they number in the thousands) and it was easier to do. All very Andy of me; in keeping with the above image.
Oh, I had vague intentions of writing here occasionally (something I was not doing much of then), but only that. My first choice for a title was from an old Frank Zappa composition,
Nasal Retentive Calliope Music
. But when it came time to typing it in to the Blogger form, I went with something else. As I'm wont to do of a sleepless early morn' I was blasting music through my headphones; Charles Mingus, as it turned out. And one of the pieces on the CD I'd been cranking was
Gunslinging Bird
. I remembered Mingus's provisional title for the piece and . . . here you have it.
If Charlie Parker Was a Gunslinger, There'd Be a Whole Lot of Dead Copycats
celebrates its two-year anniversary today. Speaking solely for myself, this blog has somewhat sustained me through some rather evil patches, morale-wise. Many times it's been a chronic pain in the neck . . . particularly when I'm behind on regular series such as
Hitchcock/Truffaut
. . . but more often I've thought of it with a rather odd species of affection. I truly did not believe it would ever last this long; and I daresay without the contributions, generally better than my own, of Stephen Cooke (who joined me in February of 2005), and Richard Gibson (who signed on in June of this year) it would have been gone inside of a year. At the risk of engaging in showbiz blather and false modesty (at worst it is anything but false), I think whatever character of success we've achieved in this production has been as much a consequence of their effort as mine. This is more than to say I could not have done it without them. I
should
not have.
I thank them both, equally, for that.
Speaking for my co-bloggers . . . and without, I hope, turning hopelessly maudlin on you . . . I want to extend thanks to our regular visitors and comment-providers (with special thanks to our earliest and best contributor in that respect, Rob Carver . . . aka, Vanwall), along with many of our very fine blogging
confreres
(Dennis Cozzalio, Sheila O'Malley, Andy Horbal, Flickhead, Ivan Shreve, Steve Carlson, David Hudson, Girish Shambu, Glenn Erickson, Jeff Duncanson, Tim Lucas, That Little Round Headed Boy, Andy Rector, John McElwee, Jim Emerson, Sam Johnson, Zach Campbell, Brent McKee, Mark over at
Movie Masterworks
. . . this is a list which could go on and on; with the unnamed finding no less appreciation than the named) for their support and encouragement, their links, their respect. More is thy due than we can pay, no doubt . . . but we will do our damnedest.
I guess this is the point where I promise great things for the future, right? Vast improvements, new features, more and more and more; all that New Frontier, John F. Kennedy jive?
I'll say this: We're going to keep doing what we're doing. No more, no less. We'll try everything we can think of, certainly. And some of it will no doubt be as lame as that first post; but if we're lucky we might just maintain a consistent level of quality in this corner of the blogosphere and, it is my hope, prove ourselves worthy of another two years of your very welcome attention.
Thank you again,
Tom Sutpen