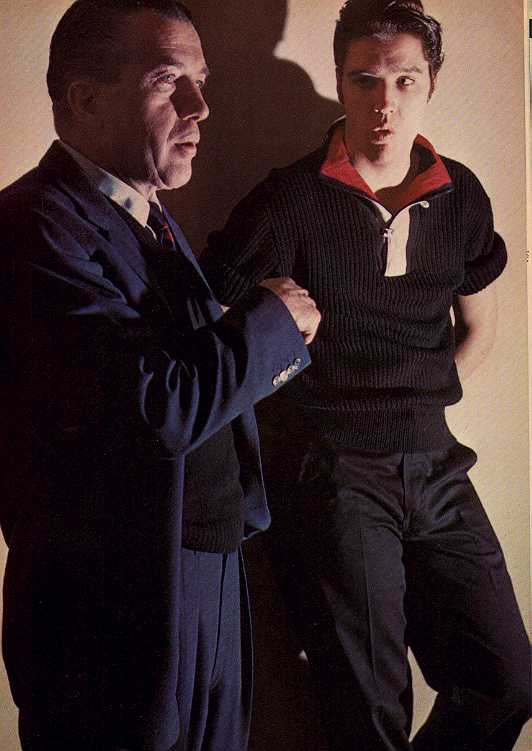 50 years ago today, a former truck driver from Memphis made his debut appearance on
The Ed Sullivan Show
, and by the time Elvis Presley had finished singing 'Don't Be Cruel', 'Hound Dog', 'Ready, Teddy' and 'Love Me Tender', it's safe to say rock and roll music had finally embedded its greasy mitts in the minds of suburban America. "Before Elvis, there was nothing," John Lennon later said, and while Chuck Berry, Bo Diddley and Little Richard might have something to say about it, Presley's mix of acceptable mama's boy and hormone crazed Southern rebel was able to eliminate the colour barrier and stake its claim on the popular consciousness.
Of course this was not Elvis's first TV appearance, he'd been on the Dorsey Brothers'
Stage Show
, Steve Allen and Milton Berle, but Sullivan was the stamp of show biz approval, and perhaps even the beginning of the end, as RCA Records and Hollywood sought to tame him even further. Presley would still make credible recordings in the days before joining the army, and notable ones afterwards, but seeing Elvis Presley on TV in 1956 was like capturing lightning in a bottle, and with the sole exception of Lennon and Co. on the same program eight years later, there's never been another moment quite like it in the annals of popular culture.
(And before someone else points it out, no, Sullivan was not present on Sept. 9, 1956, the show was hosted by Charles Laughton due to Mr. Ed recovering from an automobile accident, and Elvis, with Scotty Moore, Bill Black and DJ Fontana, plus the Jordanaires, performed their segment from California. But I love that photo.)