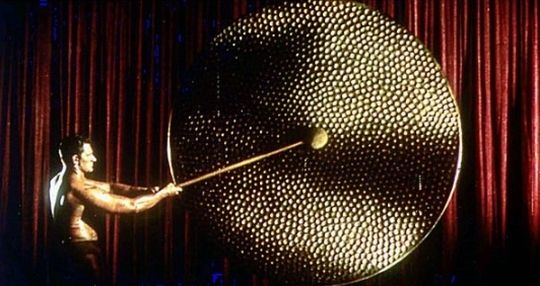 For an industry with more than its share of iconography . . . the MGM Lion, the RKO radio tower, the Pathè Rooster, etc . . . one of the more ubiquitous and better-known throughout the world was that of the muscle-bound Riefenstahl-esque figure who struck a gong, signalling the opening of a zillion motion pictures distributed by the J. Arthur Rank Organisation. As such icons go, this one was undoubtedly strange: an odd, aggressively kitschy lead-in to the normally restrained works of British cinema that followed it; more of a piece with an Italian Sword & Sandal epic like
Maciste vs. The Vampire
than films such as Olivier's
Henry V
or some sublime creation from the firm of Powell & Pressburger. But cheesy as it was, our conception of film in Great Britain would not, I think, be entirely whole without it.
The man who wielded the instrument of heraldry on these occasions and brought it to (dubbed-in) sound on a golden
papier mâchè
gong in front of a red velvet curtain, Ken Richmond, passed away earlier this week at the age of 80. His only other contribution to film was an appearance in Jules Dassin's astonishing nightmare,
Night and the City
(1950), and he was not the first, nor the second, nor the third to perform this task for the Rank Organisation. But he
was
the only one who passed away this week, and we here at
If Charlie Parker Was a Gunslinger . . .
long ago resolved that we would never miss an opportunity to look back at a time (a time so far in the past that one could be excused for not thinking it possible) when corporate logos, believe it or not, had a soul.
Many, many thanks to one of our earliest, most frequent and most valued regular commentators, Rob Carver (aka Vanwall), for giving me the heads-up on this item.