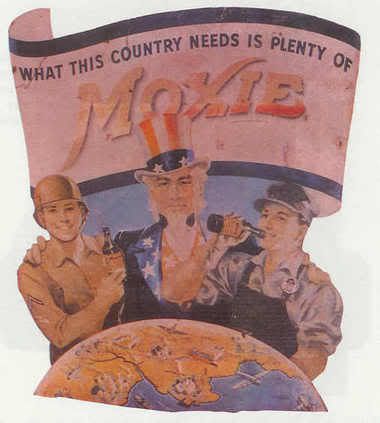 By the 1940s, the popularity of Moxie was in serious decline thanks to Coca Cola's superior marketing, which included giving free Cokes to G.I.s overseas. A decade later it would be a blip on the radar of popular culture, known mostly as an in-joke in MAD Magazine.
The following radio ads show Moxie's attempt to get in on the war effort by implying a little gentian root extract, caffeine, sugar and carbonation would go a long way towards taking down Tojo and Hitler.
Okay, while the ads don't venture into the realm of pure propaganda (although you've gotta love a jingle going out to "you folks at home making all our war machines"), they are a rare glimpse at Moxie marketing in the fading days of its glory years.
1.
Battleship Launch
2.
Kate the USO Girl
3.
Willie the Worker