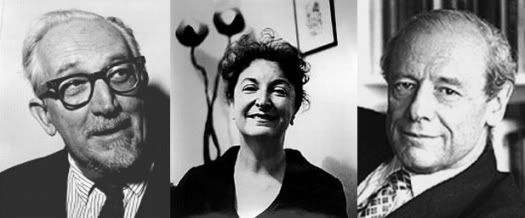 "American life is not a work of
art
!"
This observation by Dwight Macdonald could be the most foolish utterance ever made by a critic, regardless of his or her discipline, but it's also one of the many highlights in the recording we offer you today.
Alas I cannot tell you the exact date or the location where this took place, for I do not know either. But the year is 1963, and at that moment in time film criticism was so far along in its development as a cultural phenomenon . . . something one could observe as well as read . . . that a gathering of this character could actually attract a crowd as sizable as the one you'll hear.
This so-called symposium . . . as always this is a blinkered term in the context of film; revealing far more about those who use it than it ever could about its nominal subjects . . . was initially broadcast over KPFA, Pacifica Radio's flagship station in San Francisco, and features three film critics about whom the term 'legend', for once, can safely be used: To wit, the aforementioned former
Partisan Review
editor and recidivist Trotskyite, Dwight Macdonald; Pauline Kael, then a freelance art-house veteran and latter-day flapper; and John Simon, someone whom a friend of mine once referred to rather unkindly as the Slobodan Miloševic of arts criticism (unkind and also unfair; to the best of my knowledge, Miloševic was never heard to exclaim "Gays in the theater! I can't wait until AIDS kills them all!"). Of the three, two have gone on to their great reward; the other has inspired many to wish he'd made that trip long long ago.
With no great prodding from the moderator, Roger Rosenblatt, the three rush headlong into a lively and altogether jovial session of Let's Find Out, offering the assembled spectators a detailed glimpse into their methodologies of watching, 'reading' and writing about different modalities of cinema. In order to maintain the cultural lie that one form of expression in this realm is quantitatively different from another (thereby sanctioning an artificial segmentation and . . . dare I say it . . . segregation of the filmgoing audience), three films are selected for the panel to hash over: Martin Ritt's
Hud
, Fellini's
Otto e mezzo
and Alain Resnais'
Muriel
. What insight one can wrest from this event's format is anyone's guess, but it brings out the best in its three principals. And that's not a minor accomplishment.
By turns comic (Macdonald and Simon's chiding of Kael for her preoccupation with the American Experience as it is reflected in our cinema; Kael's flat-out dismissal of any film that bores her), vicious (Simon's brutalization of Satyajit Ray) and well-targeted (Macdonald launching a tactical assault upon Andrew Sarris's critical approach a good four decades before beating up on the guy became fashionable), this is a phenomenal document from that heady first decade of American Cinephilia, when film critics could engage one another before the public without either coming away diminished; before Gene Siskel and Roger Ebert went on television and turned the whole thing into a demented sitcom whose final episode we shall not live to see.
My deepest thanks to David Oberman for providing me with this recording.
Part One
(40:05)
Part Two
(33:32)