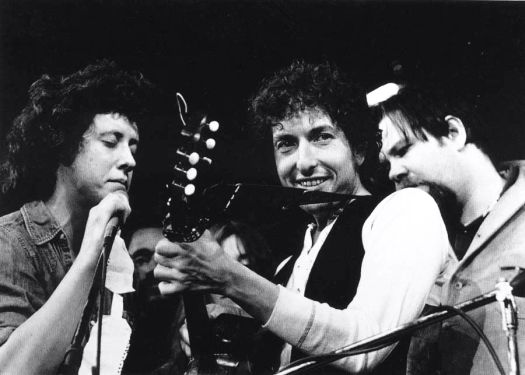 In the Spring of 1974, the late singer and songwriter Phil Ochs organized a concert to benefit the Friends of Chile. Chile, of course, was a country in peril; one that badly needed friends after their democratically-elected President, Salvador Isabelino del Sagrado Corazón de Jesús Allende Gossens, was Suicided by his own millitary (with an assist from our own Central Intelligence Agency) in Santiago on September 11, 1973.
As I say, Chile needed friends . . . and on May 9, 1974, this is what Ochs came up with.
To call this line-up eclectic is hardly adequate, but what milder euphemism could there be for an evening at the Felt Forum in New York's Madison Square Garden with the likes of Pete Seeger, Melanie, Arlo Guthrie, Mike Love, Dave Van Ronk, Dennis Hopper, Phil Ochs, Dennis Wilson and . . . oh, yeah . . . Bob Dylan. Dylan reportedly got roped into this gig after Ochs played upon his conscience in a weak moment (and who wouldn't love to have been a fly on the wall for that one), and from the minute he hits the stage he makes no secret of his committment to the cause of extricating Chile from the savage bonds of a far-Right dictatorship.
This has often been called the single worst live performance of Bob Dylan committed to record and, for once, Conventional Wisdom has its way with Truth. It's genuinely stinkola. To be fair, it should be noted that he, along with Ochs, had been guzzling vast quantities of wine in gallon jugs long before the show started. In fact, everyone sounds just a little bit blotto, but none more so than the Prokofiev of Hibbing, Minnesota himself. Some reports have Dave Van Ronk holding Dylan steady through the finale, and photos of the event (like the one above) partially bear this out.
I would be remiss, before we get to the concert itself, if I failed to include this
priceless account
of that magical night.
And now . . . the Friends of Chile Benefit Concert:
Act I:
01.
Introduction/Guantanamera
(Phil Ochs/Pete Seeger & Arlo Guthrie)
02.
Estadio Chile
(Pete Seeger)
03.
Oh, Mary Don't You Weep
(Pete Seeger & Arlo Guthrie)
04.
He Was a Friend of Mine
(Dave van Ronk)
05.
Recitation
(Dennis Hopper)
06.
Try Me One More Time
(Arlo Guthrie)
07.
Deportees (Plane Wreck at Los Gatos)
(Arlo Guthrie)
08.
Presidential Rag
(Arlo Guthrie)
09.
California Girls
(Mike Love & Dennis Wilson)
10.
Ring The Living Bell
(Melanie)
11.
My Rainbow Race
(Melanie)
Act II:
01.
Victor Jara
(Arlo Guthrie)
02.
Allende's Last Speech
(Dennis Hopper)
03.
Deportees (Plane Wreck at Los Gatos)
(Arlo Guthrie & Bob Dylan)
04.
Pablo Neruda Poem
(Dennis Hopper)
05.
North Country Blues
(Bob Dylan)
06.
Spanish is the Loving Tongue
(Bob Dylan)
07.
Blowin' in the Wind
(The Cast)