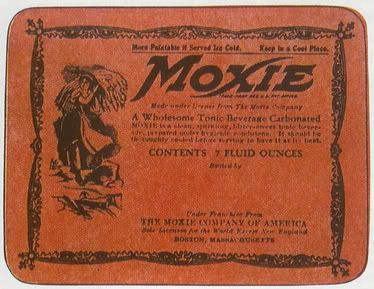 It's a new year, and time for some new series, and one I've been wanting to do for a long time is an ongoing tribute to the mysterious beverage whose logo rests to the lower right of this page.
Obviously it's a bit of an obsession with me--my campus/community radio show on
CKDU 97.5 FM
is currently titled
Moxieland
--and my pursuit and endorsement of the former "nerve tonic" dates back to roughly my high school years. Back then I had heard of
Moxie
, due in large part to frequent references in MAD Magazine, and its inclusion in the Harvard Lampoon parody of Lord of the Rings (titled Bored of the Rings), where the hobbits Merry and Pippin were renamed Moxie and Pepsi. But it wasn't until a family cross-border shopping trip to Bangor, Maine that I spied an actual can of the stuff on a store shelf, which I immediately bought and sampled, and was instantly hooked on that brown, bittersweet brew.
I'll discuss my fascination with Moxie and its sometimes bizarre history in future posts, but for now here's the original label of the first mass market version of the soft drink, which predates Coca-Cola by a few years.
"A Wholesome Tonic Beverage Carbonated: MOXIE is a clean, sparkling, bitter-sweet tonic beverage, prepared under hygenic conditions. It should be thoroughly cooled before serving to have it at its best."
They're not kidding about the cool part. If it's not chilled to near-frozen state, it can taste like drinking a glass of pennies. But if you develop a taste for that odd blend of cola, root beer (gentian root, in this case) with just a hint of cough syrup (hey it worked in the Flaming Homer), you're hooked for life.