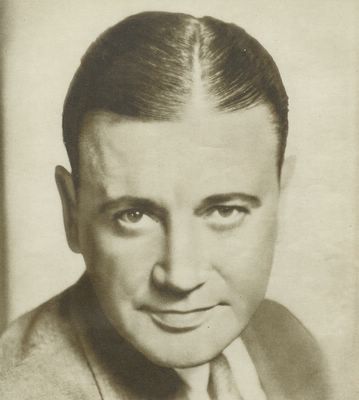 From An Autographed Who's Who of the Screen (1930)
"My real name is Ernest Carlton Brimmer, and I still use it a great deal when traveling incognito. I became an actor because I thought I was in love with my dentist's daughter who went to dramatic school...I went to dramatic school too, and got quite a part in 'Richelieu.' I changed my name because my parents objected to having an actor in the family.
"I was afraid to submit to a screen test because I was sure I wouldn't be a photographic subject.
"Before I entered pictures I had eight years' stage experience--two and a half years as leading man at the Morosco theater in Los Angeles. I played football in school and get a big kick out of all forms of sport. I got two broken ribs, two black eyes, and a broken left thumb, and a number of healthy bruises boxing Jack Renault, the French Canadian prize-fighte for the picture 'Knockout Reilly'; I barely weighted 180 pounds, he 210.
"The most exciting moment of my career came when I was seventeen years old. Our football team played in a stock performance of 'The College Widow,' and the director chose me to speak two lines. We were playing in St. Paul, and my entire school turned out to see us.
"Later I worked in the stock company and received the munificent weekly salary of $20 for being such a tremendous box office draw in my home town.
"I would rather go to the opera than eat, and like to fish for pickerel and trout. I believe in marriage as an institution, but it should be a permanent instead of a temporary arrangement."
-Richard Dix
I wonder why Richard Dix isn't better remembered today, when he's barely a footnote in the history books. What few films of his I've seen show a confident, charismatic leading man who's convincing in roles requiring a certain amount of action. He was certainly the Bruce Willis of his day, which doesn't bode well for the way Willis's career will be remembered a few decades down the road.
Even in a routine entry like Stingaree (which some people dubbed "Stinkaroo" after a screening at Cinefest a few years back) Dix makes the most of his role as an Australian bandit, in love with a touring opera singer. Heck, not even his role in the Oscar-winning film Cimmaron is available on DVD. Anyone up for a Dix revival?