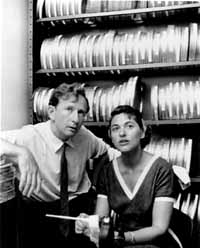 Morris Engel (with wife and collaborator Ruth Orkin)
The following story is from The Associated Press:
NEW YORK --
Morris Engel, a noted photographer and pioneer in independent filmmaking who was best known for his Oscar-nominated 1953 film, "Little Fugitive," has died at age 86, his family said Monday.
Engel died of cancer on Saturday at his Manhattan apartment, said Mary Engel, his daughter and the archivist for the body of work done by him and his late wife, photographer Ruth Orkin.
Engel, born in Brooklyn in 1918, first studied photography as a teenager. He had his first show in 1939, worked briefly for the newspaper PM and covered the 1944 invasion of Normandy as a Navy photographer.
In postwar years he became an established figure in commercial and magazine photography, before branching out into moviemaking.
His "Little Fugitive," about a 7-year-old boy who runs away after mistakenly thinking he has killed his older brother, was an innovative work of cinematic realism, costing $30,000 and shot with a handheld 35-millimeter camera that Engel and a colleague designed.
The film won the Silver Lion award at the 1953 Venice Film Festival and was nominated for an Oscar in 1954. It also was widely credited with inspiring other independent filmmakers, including directors John Cassavetes and Francois Truffaut, to develop projects that went against the grain of Hollywood.
Truffaut, a French film critic, said he borrowed themes and filming techniques from Engel's work for his 1959 film, "The 400 Blows," which was credited with launching French cinema's New Wave.
Engel, with his wife, made two other independent films, "Lovers and Lollipops" in 1955 and "Weddings and Babies" in 1958, both dealing with family and domestic themes. He also made "I Need a Ride to California," about hippie travels, which was never released, in 1968 and two later documentaries.
"Little Fugitive" has recently been remade by writer-director Joanna Lipper, with Mary Engel as co-producer.