Jack Johnson, the first . . . possibly the greatest . . . African-American Heavyweight champion in the Professional Boxing racket, was born on this day in 1878, in Galveston, Texas. His extraordinary, prodigious achievements in the ring were matched only by his unapolgetic shenanigans outside of it for outraging White people, who spent the better part of his adult life seeking vengeance in the name of their own mediocrity.
Here are five images and one hideous postscript:

Johnson and so-called 'Great White Hope' James J. Jeffries square off in Las Vegas on July 4, 1910; a bout that determined for White America who its Daddy was.


A Sunday Supplement illustration of the Vegas bout.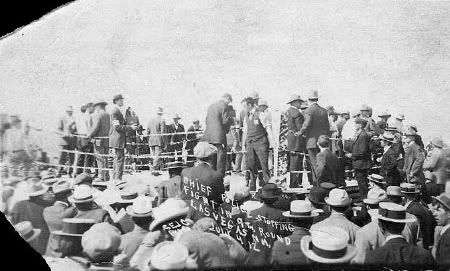 Two years to the day after winning the championship, when no one else would get in the ring with him, Johnson faced off with a middleweight, 'Fireman' Jim Flynn, again in Vegas; destroying him in a beating of such ferocity that the cops elected to intervene on behalf of the loser and stop the match.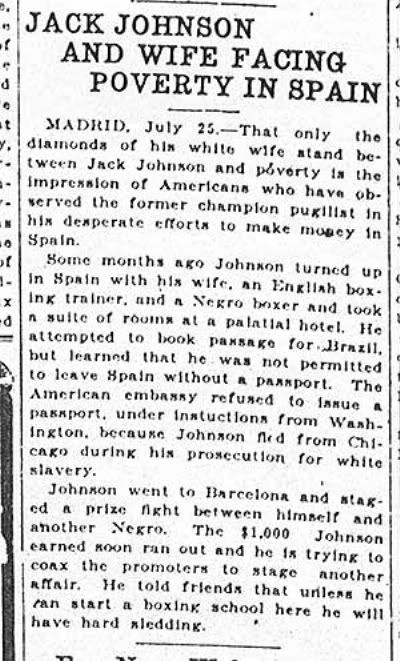 A year later, Johnson was indicted by a Grand Jury for violating a federal statute by having conjugal relations with his then-wife in a state not his own. The persecuted pugilist, upon his conviction, jumped bail and fled to Europe where his life slowly fell apart.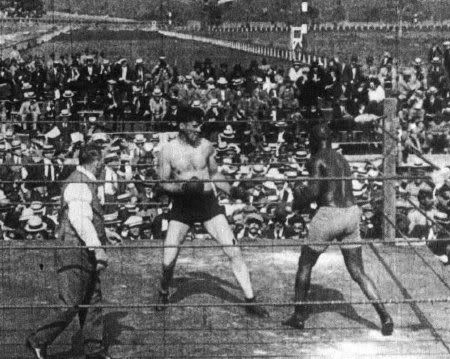 In return for losing his title to Jess Willard in Havana in 1915, Jack Johnson was admitted back into the United States, where he resumed the status of a (ahem) free man. He died in 1946.


Postscript: In one last kick in the groin, Jack Johnson's life was memorialized in a 2004 documentary by one of White mediocrity's key cultural figures, here pictured doing what he does best.