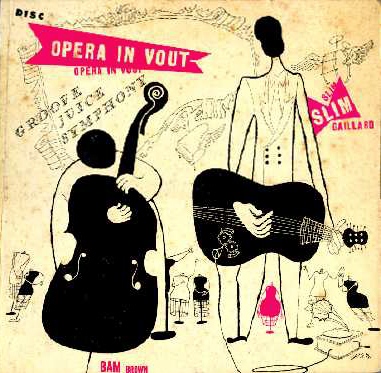 Opera in Vout - Slim Gaillard (1946)
It's about time I added something to this series, and I immediately thought of Slim Gaillard, one of the greatest and oddest characters ever to emerge out of jazz, who created the hipster language called "Vout" that was all the rage with 1940s hepcats (you can hear some of it in cartoons, especially Coal Black and de Sebben Dwarfs) and still survives today every time someone calls me "Stevoroonie". He was so cool, he got namechecked by Jack Kerouac in On the Road, which automatically makes him one of the smoothest souls that ever lived.
Gaillard is probably best known for Flat Foot Floogie, recorded with amazing bassist Slam Stewart, but his delight in offbeat language continued for years afterward, on songs like Boip! Boip!, Yip Roc Heresy and Mishugana Mambo. This particular cover is for the album of 78 r.p.m. discs (later reissued as a 10" record) for Gaillard's Groove Juice Symphony, a four part piece that manages to make fun of classical and big band all at the same time. It's available on CD on the excellent Verve release Laughing in Rhythm, a must-have for anyone who wants to understand hipster culture, or just have a heck of a good time (the same goes for the Slim and Slam collection released by Columbia).