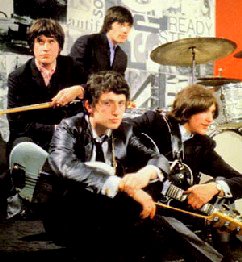 It's possibly unseemly to piggy-back like this, but Stephen's quite lovely tribute to The Kinks has moved me to add a few words; particularly on the matter of Ray Davies songswriting.
I'm convinced that if you listen to The Kinks' recordings from the mid-to-late 60s at a young enough age (as I did) they never leave you for the rest of your life. Perhaps I'm being too general, but I believe Ray Davies songs connect with people like Stephen and myself because . . . speaking for myself, anyway . . . I grew up relatively conscious of the world around me and its 1001 varieties of heartbreak, absurdity, drunkenness, despair, joy, venality, myopia and occasional manifestations of real love and mercy. Davies wrote about it all with a bottomless compassion we could, even as kids, understand. He
knew
and cared about the human experience at our level, and he never tried to make the world in his songs seem any better or any worse than it was.
The most honestly emotional songwriter of our times (only Smokey Robinson, the Van Morrison of "Astral Weeks" and the Brian Wilson of "Pet Sounds" came close in those days), Ray Davies dealt with everyday living in ways the more celebrated songsmiths such as Jagger/Richards, Lennon/McCartney, even (yes) Bob Dylan himself simply had no interest in. He gave us so much more than anyone else was giving us and, I don't know about Stephen, but who can not open their heart to an artist of that generosity?